You should use these good weapons as you play.
Like a Dragon: Ishin has a lot of weapons that are way too strong, like katanas, guns, and more. There are two important types of weapons to find: normal weapons and special weapons. The main difference between the two is that special weapons don't give experience.
This lack of progress comes at the cost of a lot of damage, which helps make up for the fact that you won't be getting any more experience. From the Gunman to the Wild Dancer and the traditional Swordsman, there are many ways to use the powerful Special Weapons you can make in Like A Dragon: Ishin.
Tonbokiri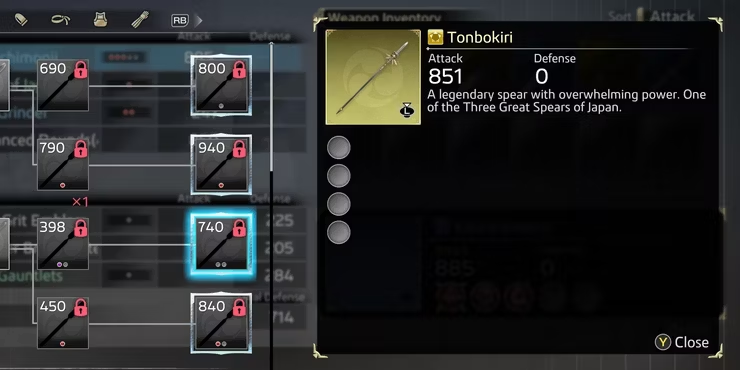 Tonbokiri is a great way to get started with Special Weapons that hit hard and serve as a solid foundation for building your perfect spear. Even though the 851 Attack is the only thing this spear has going for it, it can be a great blank slate if you don't like any of the other options.
The four open seal augment slots give you a lot of options if you want to give Tonbokiri a variety of effects or if you'd rather add more effects that help your Heat. Even though this is probably just the beginning of a long journey to make your ideal Special Weapon, Tonbokiri is a great place to start.
Otegine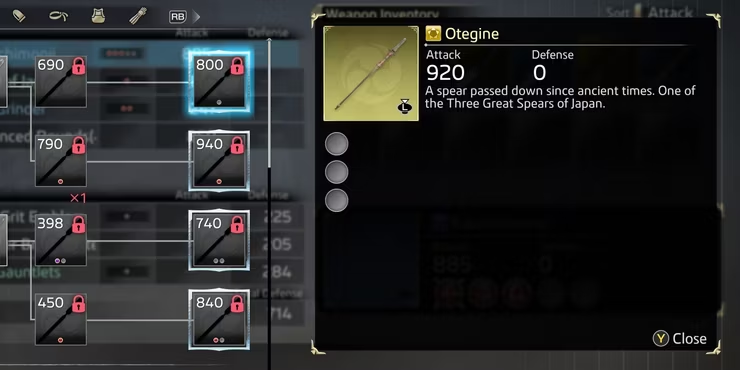 If you're just getting started with Special Weapons, Otegine is another good first choice. This spear lets you do a lot of skewering Heat moves. If the short cutscenes that come with this spear aren't enough, the base 920 Attack isn't anything to scoff at, and you won't find many weapons like it.
Even though Otegine only has three slots for seal augments, this should be enough to take advantage of the good starting damage. If you can, add some more seals that deal with heat, but you can't really go wrong with a blank slate. Try out different seals when you're making something to see which ones work best.
Haja-No-Ontachi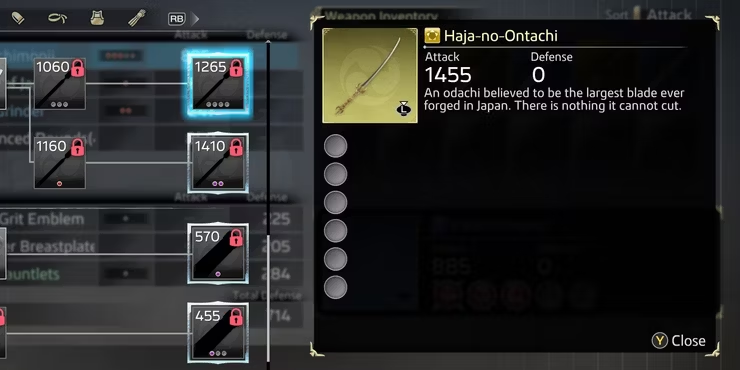 Haja-no-Ontachi is the best weapon for you if you want to be able to make a strong weapon however you want. Some of the previous blank slates were good places to start, but this odachi, with a base Attack of 1,455, is one of the best.
This weapon's huge Attack stat is close to the top of the scale, and the good things about it only get better from there. Aside from the damage it does, Haja-no-Ontachi lets you add up to six different types of seals to your weapon. This gives you a lot of freedom to try out new seal combinations or use a lot of your old favorites.
Phoenix Cannon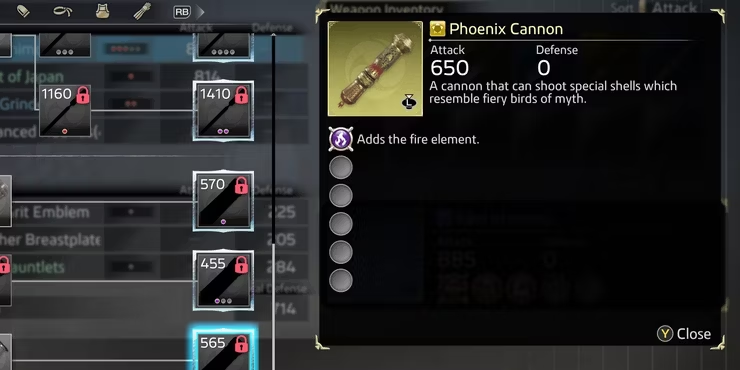 Even though it doesn't make much sense to think you can use a big cannon by yourself, there is no doubt that the Phoenix Cannon is very powerful. This is the most powerful of the three Cannons a Gunman can make, and he or she will be dying to get their hands on it.
In addition to doing 650 damage, which is great for a cannon, each shot also has a Fire elemental effect, which may be the best effect for a cannon. There aren't many weapons that can do so much damage from so far away, and the Heat scenes are amazing to watch.
Nihongo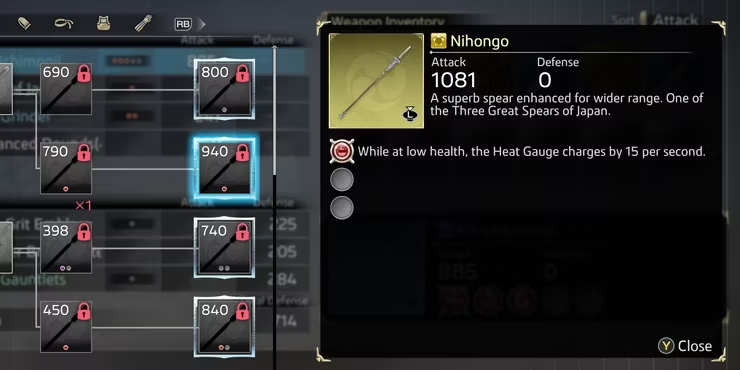 Nihongo is another great spear that does more damage than ever before with Heat moves. With a base Attack stat of 1,081, this weapon is especially useful when your health is low and you're fighting for your life.
When your health is low, Nihongo's seal perk lets you recharge your Heat by 15 per second. This should give you enough Heat to use that last action you need to turn the tide in your favor. Spear moves do a lot of damage, so give this one a try. Also, don't underestimate how important it can be to have a Heat move.
Giant Chikuwa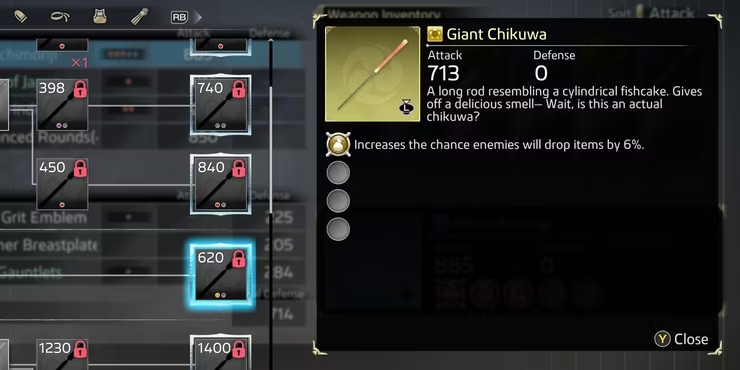 When you see Giant Chikuwa, you can't help but notice that its base Attack is only 713. This is a red flag. But this rod isn't just about beating up your enemies; it's more about the rewards you'll get after battles.
Even though the Attack number isn't very impressive, the quality of your damage shouldn't go down too much unless you only use Special Weapons. So, once you can use this weapon to win a battle, there is a 6% chance that your enemies will drop an item when they die. This is a great addition to your build if you're farming after beating Happy Wheels game and are already too high level to do anything else.
White Dragon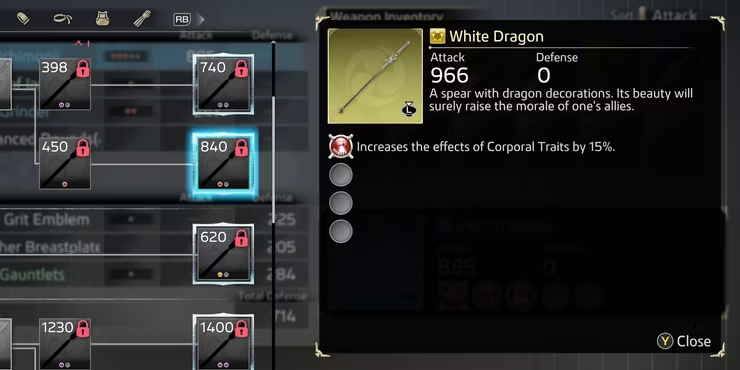 If you like things the way they have always been, and you want a Special Weapon that you can use to beat your enemies with brute force, White Dragon is the one for you. Even though its base Attack doesn't reach four digits, it still has a pretty good 966 Attack.
The White Dragon's perk is stronger than it looks. It makes the effects of Corporal Traits on your Trooper Cards 15% stronger. With this big boost, your Trooper Cards will be even more important, and if you can get some Legendary cards, this can be a very strong combination.
Bonbori Lantern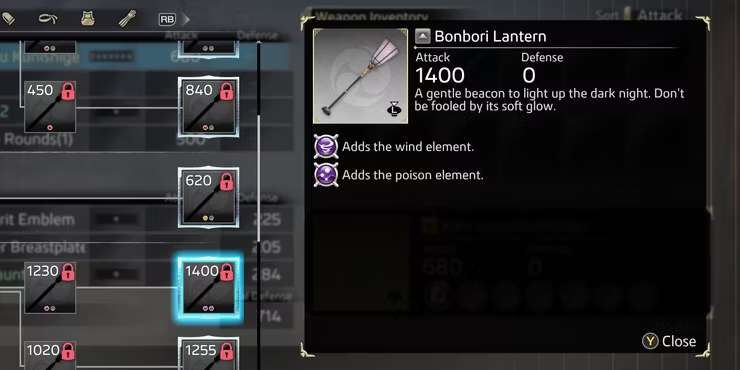 Even the best pieces of armor in Like a Dragon: Ishin can't stop this huge weapon. With the Bonbori Lantern, the goal is to do as much damage as possible across the board. This huge lamp has the elements of Poison and Wind in it, which gives it an extra level of power.
Due to the extra effects of its seals, each hit with this huge weapon will not only do a base of 1,400 damage, but it will also cause elemental pain to your opponent. Heat moves are already very powerful, but this weapon makes them even stronger.
Demon Smasher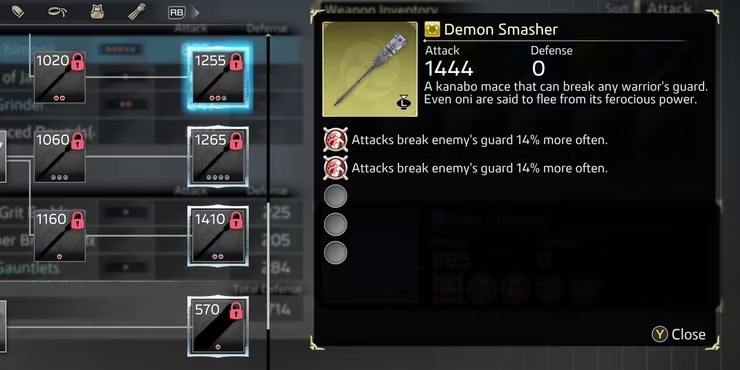 As the name might suggest, the Demon Smasher is here to do a lot of damage and add some seal effects that are just as crazy. The Demon Smasher could be your go-to mace because it has an amazing Attack of 1,444 and looks just as scary to scare off enemies.
If the amount of damage doesn't convince you, maybe the fact that each of the two perks has a 14% chance to break your opponent's guard will. Being able to get past a foe's guard ability is very useful because it lets you keep doing damage when your opponent might have stopped the bleeding otherwise. Any Special Weapon with the ability to snowball hits into long combos is very powerful.
Nenekiri-Maru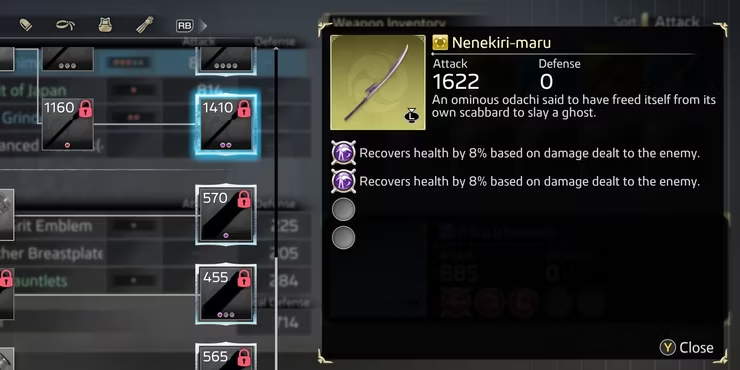 The Nenekiri-maru has raw numbers that have never been seen before and beats out all other contenders for the title of best Special Weapon in Ishin. This odachi has a terrifyingly high Attack of 1,622 that sets the bar for all other weapons.
With this great Attack stat, you'll get the most out of Nenekiri-two maru's bonuses, which each heal you for 8% of the damage you do to your enemy. The Nenekiri-maru is by far the best Special Weapon you can make in Like a Dragon: Ishin. It has the best combination of constant damage and essential health restoration.